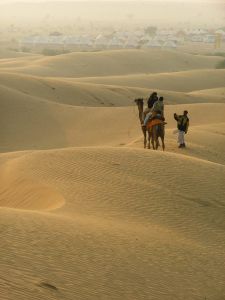 Weather in India varies from moderate to the extreme of climates. The northern part of India experiences the coldest of winters and in the south one comes across the hottest of summers. Tourists can plan out their itinerary at any time of the season, as the weather conditions vary from region to region.
Basic Structure of the Indian Weather
India experiences seasonal cycles compared to other countries of the world. November, December and mid-march are considered to be the coolest months during the year. Then, summer follows in April, May and June. In mid-July, the rains set in and continue throughout August and September.
Differing Climates
In the Northern part of India, the winters are severe. The Himalayan range experiences snowfall and many people visit Kashmir and Shimla to experience the snowfall. The winter is very severe in the northern part of India during the months of November to January. Of course in the south of India, the winters are milder during this season. In fact the daytime heat will be very warm and soothing. Even in the northern part of India, the daytime sunshine is warm and it is perfect time to visit the country.
The summers are extremely hot in the southern states of India. People find it difficult to move around in the daytime. In the north, of course, summers are not so hot as in the south of India, but yet it is hot. Most people prefer to remain indoors during this season. During the summers many people visit the hill stations such as Mussorie, Shimla to getaway from the heat of the plains.
The rainfall during July, August and September is heavy all throughout the country. It is the monsoon season. Then rains are there in the post-monsoon season as well. In winters also the country experiences rainfall. It is the retreating monsoon.
To enjoy snowfall one can visit the Himalayan range of mountains. Also the winters are very sunny in the daytime and pleasant in the plains in the northern India. In case, one prefers to visit the south, then one can make a trip in winter as the climate is not very hot.