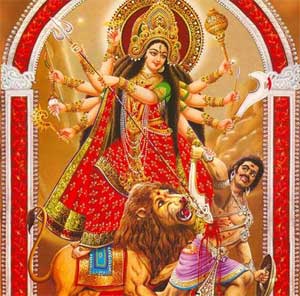 2009 Navaratri Dates – Navaratri 2009 starts on Saturday, 19th September
2010 Navaratri Dates – Navaratri 2010 starts on Friday, 8th October
2011 Navaratri Dates – Navaratri 2011 starts on Wednesday, 28th September
2012 Navaratri Dates – Navaratri 2012 starts on Tuesday, 16th October
2013 Navaratri Dates – Navaratri 2013 starts on Saturday, 5th October
"Nava ratri" meaning "nine nights is celebrated twice during the year. It is observed in the beginning of summer and then once again when winter sets in. By worshipping Goddess Durga one is bestowed with wealth, prosperity and good health. Durga is another principal form of Parvati. It is divine to worship "Shakti". It is celebrated during the initial nine days of the brighter fortnight of the Hindu month of Ashwin (September/October). The tenth day of the festival occurs at the same time as Dusshera or Vijyajdashmi.
Legend of Navaratri
Demon Mahishasura was so powerful that none of the Gods could destroy him. The gods went to Goddess Durga for help. Each God presented her with a powerful weapon. Equipped well with such weapons, Goddess Durga destroyed the demon. The place where the demon died was Mahishpur. Now it is known as Mysore.
Celebration of Navaratri
It is a nine day festival. In Mysore, it is celebrated with much gaiety. Bejeweled elephants are taken around the city. People within the community come together and sing bhajans and dance. The Dandiya-raas as well as the Garbaas, traditional folk dances and songs of Gujarat are performed. Even abroad also the festival is celebrated in all its splendor.
In West Bengal Goddess Durga is worshiped for ten days and puja and dance recitals are organized. On the final day, procession of the idol is held before it is immersed in the river waters.
The Navaratri celebration is an auspicious occasion for family and friends to get together and exchange greetings. In some places young girls, who are yet to be married are worshipped.
Ritual of Navaratri
Mother Goddess Durga is invoked. She is the Goddess of energy. Navaratri ritual performances are divided into three sets. The initial three days are devoted to invoking the powerful goddess Durga to get rid of impurities, defects and vices. Then, the mother goddess is worshiped as Lakshmi, who will bestow us with wealth. The final three days are spent worshiping as Mother Goddess of wisdom, Saraswati. In order to be blessed from all angles of life, it is essential to worship Mother Goddess for nine consecutive days.
The images of the Goddess are placed in homes and temples throughout the nine days' celebration. Fruits and flowers are offered to the deity and bhajans are sung in praise of her.
In West Bengal and elsewhere in India, the Bengalees set up pandals (Cloth abodes) to worship Goddess Durga's idol. It is a nine days' affair celebration. The priests perform the puja and flowers and sweets are offered to the deity. The devotees wear new clothes. It is an occasion for social get-together.
Navaratri is indeed celebrated with much fervor all over India. Goddess Durga is invoked in order to ensure personal well-being.