Makara Sankranthi 2010, Pongal 2010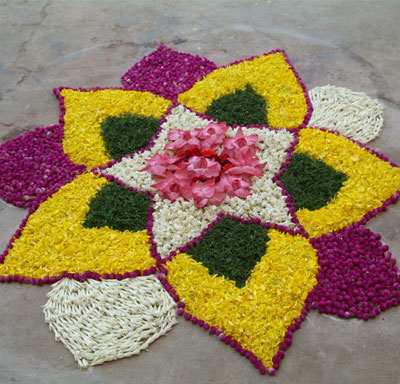 Pongal happens to be the only festival that follows the solar calendar and is celebrated on 14th January of every year. It is the time when sun commences its journey to the northern hemisphere. "Makara" stands for Capricorn and "Sankranthi" means transition. It welcomes the harvest season. It is a big event for farmers. The festival celebrates the arrival of the first fruit. Although, it is a festival for the farmers, now it is celebrated all over India.
Celebration of Makara Sankranthi, Pongal 2010
In Hindu temples drums resound and bells ring. Conch shells and clarinets usher in the joyous occasion. It provides the farmers a break from their monotony of traditional farming. The festival is celebrated for a period of four days in Tamil Nadu. "Bhogi"(celebrated January 13th) is the day when old clothes are got rid off and it is the beginning of a new life. On the second day, that is Pongal (celebrated January 14th) fresh milk is boiled early in the morning and is allowed to spill over. Savories and sweets are prepared and people visit each other's home and exchange greetings. The third day known as Mattu Pongal is the day to offer thanks to the buffaloes and cows as they are made use of for ploughing. On the last day, which is Kanum Pongal, people go out on a picnic.
Colorful Rangoli designs decorate the houses and the front porch of the houses. People wear new clothes and buy jewelry. Women wear gold and silver ornaments.
Rituals of Makara Sankranthi
As a symbolic gesture with regard to bountiful harvest rice is cooked in new pots till it spills over. In the temples rice is cooked, chanting of prayers herald the festival and vegetables, sugarcane as well as spices are offered to the Gods. To exonerate themselves of previous sins, the devotees consume the offerings. Farmers also worship some crops in the form of puja. People bathe in holy waters and worship the sun. The belief is that a person who dies on this day will go to heaven.
Makara Sankaranth is a joyous occasion for farmers as well as ordinary people. It is day to be thankful for what we have- good food. For farmers, it is celebration of bountiful harvest.
Leave a Response