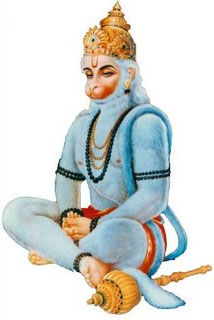 When is Hanuman Jayanti in 2009? 2009 Hanuman Jayanthi is on 9th April.
When is Hanuman Jayanthi in 2010? 2010 Hanuman Jayanti is on 30th March.
The birthday of Hanuman falls on "Chaitra Shukla Purnima"(full moon day in the months of March- April). The monkey-god is worshipped all over India with great reverence. He is a brahmachari (celibate).
Hanuman was a staunch devotee of Lord Rama and is worshipped for his total devotion to the Lord. He is the symbol of devotion and strength. He has so much power that he can wield rocks, travel through air, Move Mountains, and seize clouds. He is worshipped as a deity who can ward off evil spirits and is considered to possess magical powers.
Legend of Hanuman Jayanti
Sita had applied sindhoor on her forehead and Hanuman enquired about its significance. He was told by Sita that this ensured long life for her husband. Hanuman on hearing this applied sindhoor all over his body praying for the immortality of his Lord.
Celebration of Hanuman Jayanti
Hanuman is worshipped on this auspicious day and people fast. People read the Hanuman Chalisa and recite the name of Lord Rama. This pleases Hanuman and he blesses the devotee with success in all his or her efforts. From early morning hours people visit the Hanuman temple. Spiritual discourses are organized in the early hours in the temple premises. At home idols and pictures of Hanuman are cleaned up in the early hours of morning.
Ritual of Hanuman Jayanti
People visit the Hanuman temple and apply the sindhoor taken from the idol of Hanuman on their forehead. It is supposed to bring good luck to them. Prasad (religious food offering) is distributed among the people. Pooja is performed and abhisheka (religious offering consisting of coconut and flowers) is done. Preparations begin very early in the morning. The pictures and idols of Hanuman are smeared with sindhoor. Bananas and sweets are offered. Prayers are held and aarti is performed. Most of the devotees keep fast, especially those who are wrestlers and body builders. Although generally fast is done by Hindu women in most festivals, in this case men mostly go on fast.
Hanuman represents strength and courage. Men worship him to imbibe his courageous qualities. He was a great devotee of Lord Rama.