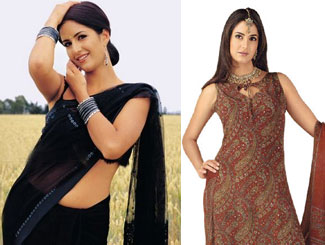 India is a diverse country. People practice their own customs and speak different languages. Each state is unique in its own way. Yet a common thread prevails. Even in matters of attire, there are variations. The dress code varies from state to state, although certain types of dresses are commonly worn. Let us have a look at the different attire of the Indian people.
How do People Dress in India? – Dresses in India
Sari – This is worn by women and is more or less a national attire. It consists of 6 to 9 yds un stitched cloth which is draped around by forming pleats. One does not face any problems of size and shape. It hides the extra flab and,of course, also highlights the figure if one has one. This is also worn differently in different regions. Bengalis wear a pleatless sari. In Gujarat, the Pallu is worn from the back. In Maharashtra, some portion of the sari is taken between the legs. But sari is the most popular dress. Even women in the political arena wear this dress and those who represent India abroad also attire themselves in a sari. They are available in different materials, ranging from cottons to silks. There are some saris made cheaply available for the common person, whereas some are very expensive as they have intricate embroidery on them. The silk saris of Kancheepuram from Tamil Nadu and Kashmiri silks are very expensive. Banarasi silk saris are preferred by North Indian brides.
Salwar Kameez – This a two piece dress with a dupatta( a veil covering the bosom or head). It consists of pyjama and a top and is also worn by women, mostly from the North. Punjabi women wear this outfit. It is very comfortable. It provides much freedom for women who are working in an office or in the fields. Young women wear this more before marriage. Once they marry they also wear saris.
Lehenga and Choli – In the Western part of India, that is Rajasthan and Gujarat women wear the lehenga and choli. This consists of a long ankle length skirt and a blouse on top. Some wear a Gharara, which is a divided skirt which is flared at the bottom. They come in attractive colors. Women wear sliver jewelry to go along with it.
Long Skirt and Top – In Assam and Nagaland, although sari is also worn, women wear a long skirt with a top.
Western Attire – In Goa, many women wear the western attire. The Portuguese influence is there.
Dhoti and Kurta – Men drape a piece of cloth around them from waist below. It is tied at the waist and is also passed through the legs in some places. Men find it a comfortable attire to wear. On top they wear a kurta.
Pants – This a western outfit left behind by the British. This very popular and most urbanites wear this to work as well as social get-together.
Modern attire – Now the growing trend among the urban elite is to wear western outfits. Women wear dresses and gowns as well as pants and jeans for casual wear. Men also wear tee-shirt and pants for causal wear.
India, no doubt, is an amazing country. It has much to offer in the form of attire. Many foreigners try out these dresses when they visit India to experience the mystic East and its culture.