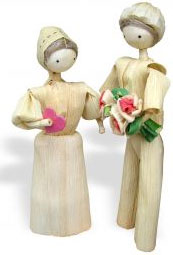 The relationship between a husband and wife is a very sensitive affair. It has to be based on mutual trust, love and care as well understanding. Much effort goes into maintaining the relationship. Both the husband and wife have to make that extra effort to show their love for each other. Any kind of neglect on each other's part could lead to a termination of the relationship or end up as relationship with no sparks.
A husband needs the support of his wife to carry on with his professional life and also to meet his emotional and physical needs. He cannot take his partner for granted and has to ensure that she is happy being married to him. In other words, he has to impress upon his wife to keep himself in her good books. What all he needs to do to impress upon her?
Wine and dine with her frequently – A husband needs to spend time with his wife more. He may be busy with his official work, but yet he needs to take time off and take her out for dinner. A romantic candle dinner would keep the love flame alive.
Take interest in her hobbies – A wife likes it when her husband shows keen interest in how she spends her time at home. The husband needs to show interest in her hobbies and if possible participate in them.
Spend time with the children – A wife after all has devoted her precious time in the upbringing of the children. She naturally would like it if her husband also took time off and spent it with the children. The husband needs to make her feel that he is also shouldering the responsibility of bringing up the children.
Show interest in her friends – A wife spends her free time with her friends. She would like it if her husband was also interested in her association with her friends. He is expected to respect her friends and treat them well.
Socializing – A husband needs to take his wife to social get-togethers and not make her feel alienated by leaving her at home. Even at official gatherings, he can take his wife along with him.
Buy gifts – Buying the appropriate gift for the wife requires much time and effort, which the husband should not overlook. A birthday gift, a marriage anniversary surprise party can do wonders to make a wife come closer to the husband.
Respect her family members – A wife cares about her family, be it her brother, sister or parents. A husband needs to be careful to avoid hurting her feelings by insulting any of her family members.
Go on holiday – It is important for the husband to spend his precious moments with his wife. A summer trip to the Bahamas or Hawaii sounds very exciting. A wife will be thrilled to spend time with her children and husband, away from her daily chores.
Help her with the daily chores – despite his pressures at work, it would be nice if the husband took some time out and helped his wife with her daily chores in the house. The wife may feel bored doing them. She would appreciate the gesture extended by her husband as a thought of love and affection for her.
Not forgetting the marriage anniversary date – A husband who remembers his marriage anniversary date is well received by a wife. After all, she would feel that he is still full of same loving concern for her as he was on her first date with him.
A husband who cares for the feelings of his wife will make a success of his marriage. By neglecting her, he would either live in a miserable relationship or end up losing her. A conscious effort needs to be made to impress upon her to strengthen the marital bonds.