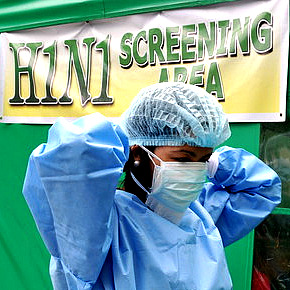 The H1N1 flu has not only infected more men but also killed more women.
The union health ministry has carried out an analysis of H1N1 flu infections till November 8th. It was observed that the virus had infected almost 3,000 more men as well as women-8997 men as well as 5,933 women. But judging by death figures 258 women have died on account of the infection as compared to 248 Men. India till about November 8th has recorded about 14,930 positive cases of H1N1 infection,with 506 deaths. No doubt, the latest figures that are available till the time of November 20, the number of infected Indians had reached about 16,201 while about 543 deaths had been recorded.
Till November 8th the state of Maharashtra had recorded the highest number of deaths that have been caused by HINI flu (212). This has been followed by Karnataka (119), AP(46), Gujarat (43) and Kerala (22). When it comes to positive cases of H1N1 infection Delhi is highest on the list with around 3,853 cases followed by Maharashtra (3,728) cases,TN (1,665), Karnataka (1,513), Kerala (1,096) and Haryana (739). Andhra Pradesh has shown a record of 686 positive cases if H1N1. Only five stages have not recorded a single case of H1N1 infection. They are Lakshwadeep, Sikkim,AP, Dadra and Nagar Haveli as well as Tripura.
The Union health minister, Ghulam Nabi Azad says that India has already spent RS.332 crore to combat HINI flu. Financial assistance given directly to the states has been in the form of Tamilfu that is being supplied and training being given to state officials.