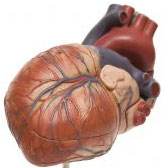 Like the Nano cars, now one can have affordable artificial hearts. Scientists working at the Indian Institute of Technology, Kharagpur have come up with an artificial heart which could save many lives for just 1 lakh.
The scientists claim the trials of this prototype lab-devised heart had been successfully tried on small animals and the device has also been perfected on goats. The institute has sought permission to try on humans.
The Total Artificial Heart (TAH) is the first of its kind in the country and has been developed by the scientists belonging to school of medical science and technology, IIT Kharagpur. It took them fours years of hard work to come up with the device which is definitely cheaper than the first American artificial heart which costs about Rs.30 lakh, which the common man cannot afford and is prone to "high rate failure". It is hoped that the device will be placed into an ailing patient within few months, once Indian Council of Medical Research gives permission. The "unique 13-chamber heart" is working fine in the case of small animals.
The human trials will be conducted by senior heart specialists such as Madhusudan Pal, Bhaskar Ukil, Tarun Saha and Kalishankar Das of MCH and Rajiv Narang of AIIMS. The scientists are also in touch with P. Venugopal, former director of AIIMS, who is a leading cardiac surgeon.
Sujoy Guha, IIT, Kharagpur faculty member as well as bio-medical engineering expert, who is the leader of the artificial-heat team said they expected P.Venugopal to be part of the team.
The TAH will be useful for patients whose heart muscles are so weak that immediate transplantation is required, according to Guha.