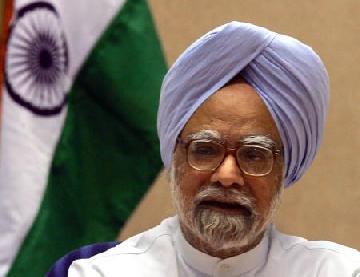 Prime Minister Manmohan questioned the slashing of the prices of petrol products to pre-Budget levels. Earlier, Union Finance Minister, Pranab Mukherjee had said that he was open to discussion on rolling back the hike in fuel prices. While on his way back from Saudi Arabia, Singh said that pursuing populist policies would definitely be detrimental to the growth of the country in the future. He did not favor the argument that the hike in petrol prices would have a great effect.
"Any increase in prices does hurt some people. We have to take a long-term view. We cannot save people from inflation if we follow populist fiscal policies all along. Sooner or later, these populist policies, if persisted  with for a long time, will lead to erosion of the investment climate, our capacity to create new jobs, and our ability to invest in our flagship programs for the poor people. So, we  have to balance these factors," Singh said in reply to several questions posed by the media, No doubt, the objections raised against fuel hike by Congress allies Trinamool Congress of Mamata Banerjee as well as DMK do not seem to be taken into consideration by the Prime Minister and would not therefore be giving into their pressure.
Singh feels that the hike would not in any way add to the already existing inflation. He said, "the increase in fuel prices, the direct effect on the wholesale price index will not be more than 0.4%. There will be some escalation but my hope is now that the rabi crop is coming in the market, prices which have caused a great degree of concern-of wheat, sugar oilseeds, pulses-will see some  moderation and that the economy has the capacity to absorb this hike in oil prices without setting in motion an inflationary spiral."
The Prime Minister  has no doubt responded to the resolve of both the Trinamool Congress as well as DMK to escalate their protest in case it is not heeded.
Comment: It looks like one has to prepare oneself for hike in petrol prices. As it is, it costs much. Further increase would of course lead to an overall increase in other prices, including that of essential commodities. Those who would be most badly affected are those with static incomes as well as retired people and of course salaries. The rich and the business class perhaps may not be so badly affected as they are in position to generate more income or already have enough resources on hand. The common man and the middle class man are badly affected.