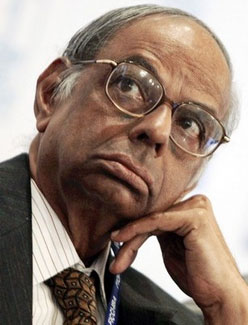 A day before the releasing of the economic data for second quarter, The economic advisory council (PMEAC) chairman, C. Rangarajan said that the GDP in all probability will be 6.1% in Q2. He also expressed optimism that the target of 6.5% in 2009-10 can be achieved. In order to achieve 6.5% growth in the entire span of fiscal, the GDP has to grow by at least about 7% as well as above in the rest of the two quarters.
Rangaranjan also said that there would be any impact of the recent events in Dubai on the economic activity of the India. According to him, domestic demand drove the economy mostly and there was less dependence on external factors.
The growth target of 6.5 % can be achieved as it is backed by the industrial and service sectors, which he claims, "will be stronger in the second half and will make up for the impact of weak monsoon on agriculture in the third quarter," he added.
The Indian economy is, no doubt, geared towards good recovery after the recession period. It is hoped that that the economic growth would be such that people would feel reassured again that things will be alright. Naturally, the recession caused much setback economically and many suffered financially. Investments in the industrial sector was low and the markets also recorded a low rate of turnout. Unemployment became a common feature.
The coming year, that is 2010 will be better it is felt. Employment opportunities will increase and the purchasing power of the people will improve. The slump in the market will lift.