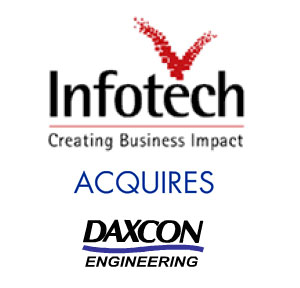 Hyderabad based IT services Infotech Enterpirses Ltd has officially announced that it has acquired Illinois-based engineering service in "all- cash deal" for an amount that has not been disclosed.
The company that has been acquired has a current run rate revenue of about $13.5 -15 million and has of course 150 employees. The acquisition has been made through its wholly owned US subsidiary Infotech Enterprises America Inc late last week.
Infotech Enterprises Chairman as well as managing director BVR Mohan Reddy also said that the company was also planning to acquire some more small sized acquisition deals within the area of $15-20 million and the negotiations were in an advanced stage." We have a number of deals in the pipeline and we hope to do at least one this quarter. The $ 20 million range is our sweet spot as our strategy is to go for small acquisitions, instead of one big acquisition that puts the company at risk," says Reddy. He also said that the deal would be in the engineering space similar to Daxcon buyout.
Commenting on the Daxcon deal Reddy also said that the buyout would help the company to build its own capabilities in the field of heavy engineering, aerospace sectors and commercial vehicle.
Reddy also said that the company had also got hold of four-year engineering services contract with the Hamilton Sundstrand Corporation that was expected to see the company add about 400 engineers over a period of coming three years.
The company also proposes to take on additional 350 employees to its already existing staff of about 7,200 employees by the end of the quarter. Reddy also said that the company had won the " Urban Property Ownership Record technical service provider project" from the Karnataka government, which will of course will be in operation "on a build-own-operate-transfer basis for five cities.
The company has also shown a net profit of 161.8% increase during the third quarter which ended in December 2009. The net profit increased from Rs. 37.9 crore from 14.5 crore in the same period during last year.