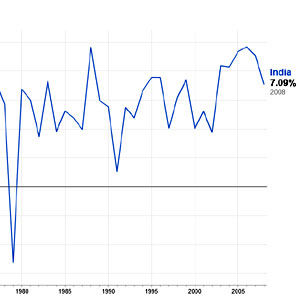 Leading economists have claimed that the economic expansion has been only 6.9% of the present gross domestic product (GDP) for the ongoing fiscal year. This is lower than the government projection of about 8 %, since the agricultural growth is rather expected to do down by about 1%.
The study was conducted by the Federation of Indian Chambers of Commerce and Industry (Ficci) as a part of its Economic Outlook Survey. Several economists mainly from the banking as well as financial sectors were interviewed.
The forecast has placed the GDP for the year 2009-10 at about 6.9% with of course the growth of agriculture being a negative 1%.
The industrial sector has show positive result at 8.5% and services by about 9%. The fiscal deficit gas marginally increased at around 7% as against the budgetary estimates of 6.8% of the GDP. The industrial sector showed a growth rate of 8.5% and services about 9%. The economists also say that the withdrawing of stimulus measures must happen in the sectors that are showing very strong growth.
The survey says, "The sudden withdrawal of stimulus would adversely affect the growth trajectory. Exports must continue to get support, as the outlook for the global economy is still uncertain." FICC refused to list out the names of the economists.
It is expected that the GDP growth will come down to 6.8% in the third quarter of the present fiscal quarter as compared to 7.9% in the second quarter.
The economy grew by about 6.1% in initial quarter of the present fiscal year. However, in the fourth quarter, the survey says that economic expansion would perhaps rebound to about 7.5%. Agriculture as well as allied activities would lessen by 2% in the third quarter due too drought which happens to be widespread. In the fourteenth quarter, it would end up being flat.