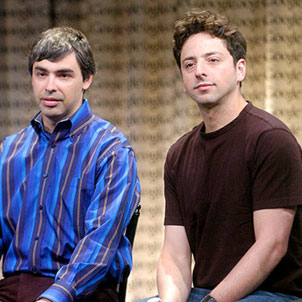 Sergey Brin as well as Larry Page will be selling about ten million shares of major search engine Google in the coming 5 years. Both of them will be giving up their majority rights to vote on the online search engine which they co-founded in 1998.
At present both Brin as well as Page together have about 59% of the total voting rights . The plan to sell the shares would obviously bring down the voting rights of the both the founders to about 48% according to Google's claim in filing given to the US securities as well as Exchange Commission. At present, Brin as well as Page hold about 57.7 million Class B shares which represents about 18% of its entire outstanding stock. As well as " approximately 59% of the voting power of outstanding stocks of Google."
This internet mammoth group had gone into public in 2004 and has about 2 types of stocks –the Class A stocks which are traded on the Nasdaq as well as Class B shares that have been kept aside from the company insiders. Their voting rights are ten times more than Class A stocks.
The Google filing says," As part of five-year diversification plan, Larry (Page) as well as (Brin) each intend to sell approximately five million shares." After the proposed sale has been completed, both of them would have about 47.7 .million Class B shares, which accounts for nearly 15 % of Google's outstanding capital stocks that is "approximately 48% of the voting power of the outstanding power."