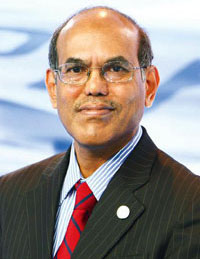 Economic revival in India will be fast once the global revival begins after this present meltdown. No doubt, it is difficult to predict when exactly this will happen, says Reserve Bank Governor D. Subba Rao in an interview given to the BBC World, before he left for London to attend the G20 meting there.
Subba Rao claims that Indian economy, which happens to be the third biggest economy in Asia will lead the global growth. "India can be a growth engine. Not that India can recover ahead of the world. But when recovery starts, India's recovery is going to be sharp and rapid."
The International Monetary Fund in the month of January had cut its forecast for the global growth in the year 2009 to slightly about 0.5%, which is the weakest since the World War II, based on November estimate of 2.2%.
According to Subba Rao, although India's exports amount to 14% of the GDP, which is much lower than its Asian counterparts, the global crisis has affected the Indian economy through the manufacturing and financial sectors. He also said it was difficult to predict when the recovery will begin.
The Indian economy suffered much as its exports were affected and the consumer sentiments had a setback. The expected increase will be at a low of six years of about 7.1% from an average rate of about 9% in the last three years.
Subba Rao further claims that the financial sector of India was sound and safe and well capitalized due to sensible policy actions which were taken by the government as well as the central bank. Since the time of the global crisis hitting the Indian shores, the Government has provided two stimulus packages, rate cuts and duty just recently to increase growth.
The finance ministers of G20 promised that IMF money would be provided to help out countries in trouble. They also said that they would utilize all their monetary and fiscal power to combat the present global crisis, the worst since the 1930s. India, according to Subba Rao, has gained from globalization and would not retract from it.