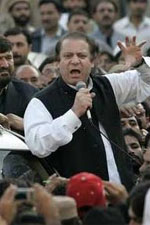 Yielding to the pressure of the agitating Lawyers, the isolated Pakistani President Asif Ali Zardari has agreed to reinstate Chief Justice Iftikhar Chaudhary from March 21st as well other judges. Both Chaudhary and the judges were sacked by ex-president Musharaff after the imposition of an emergency on November 2nd, 2007.
This decision of Zardari was announced by Prime Minister,Yousuf Raza Gilani in a pre-recorded televised address. He also said that the Government would file an appeal against the order passed on February 25th which barred Sharif as well his brother, Shahbaz Sharif from standing for elections and holding a public office. This implies that Shahbaz would again become the chief minister of Punjab.
The finale to these demands took place when ex-prime Minister Nawaz Shairf, who is also the PML-N chief, wanted as part of his election agenda the reinstatement of the judiciary existing before November 2nd. He led a protest march consisting of lawyers and other supporters to Islamabad and also defied his house arrest.
The powerful chief of army General Ashfaq Pervez Kayani also intervened and supported the agitators. Even public opinion was against Zardari. Kayani had several meetings with the president as well as the prime minister to put an end to the deadlock.
Zardari was under tremendous pressure from his opponents as well as some of his PPP strongmen as well as from the United States Government. His Prime Minister Gilani also supported the opposition. Even his ministers Sherry Rehman and Raza Rabani had submitted their resignations over the issue.
Zaridari was hesitant to reinstate Chaudhary as he was afraid that he would again open up a trial which would be against him, bringing into focus the National Reconcialiation Order- a deal that he as well as his assassinated wife Benazir Bhutto had made with Musharaff granting amnesty from the "alleged graft cases".