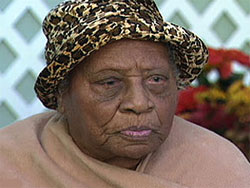 The oldest living individual is now 115 years old. US President Barack Obama as well as several well-wishers greeted Gertrude Baines on the occasion of her birthday.
Ms. Baines not only received a cake, music and a letter from Obama but a proclamation from the Guinness Book of World Records, which has acknowledged her as the oldest person in the world.
Obama in his letter to Ms. Baines wished her a happy birthday, who has said that she would be voting for the President again in 2012.
Governor of California, Arnold Schwarzenegger also paid a visit on her birthday.
Adolf Hitler's Prized Nazi Clock Available in Antique Shop
Adolf Hitler, the German dictator's final minutes in bunker may have been recorded on a Nazi Clock, which is being made available in an antique shop in England. The eagle-topped clock is described as being a gilded bronze clock. He claims that the Nazi timepiece happens to be a prized memento since the time Berlin fell.
Spray Improves Sex Life – New Discovery
Every effort is on by science to improve the sex lives of individuals. The latest effort is by scientists is the creation of a spray that helps men remain six times longer in their bed, while having sex. The spray has been developed by British doctors. When the spray is used five minutes before sex, love- making can be extended from seconds to almost four minutes. The study has appeared in the BJU International (April issue).
An experimentation was conducted on 300 men having clinically diagnosed lifelong premature ejaculation (PE) from 31 centers in the UK, Hungary, Czech Republic and Poland and were divided into two groups. Two members used the PSD502 spray, containing 7.5mg of lidocaine and 2.5mg prilocaine and 100 of them made use of a placebo spray that did not contain active ingredients.
Each time the participants had intercourse during the study period, which lasted 3 months, each of the couple measured the time period from vaginal penetration to the time of ejaculation with help of a stopwatch. The men were asked to abstain from sex or masturbation for about 24 hours before each of them recorded encounter.
The time period from penetration to the time of ejaculation increased from an average 0.6 minutes to 3.8 minutes in the medicated group and to about 1.1 minutes in the placebo group.