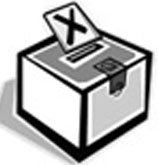 For the first time special arrangements are being made for visually handicapped by the Election Commission of India in the coming Lok Sabha elections to be held next month. They will be able to vote independently without the help of aides in Braille language.
The electronic voting machines will have stickers that have been embossed in the Braille script. For those on wheel chairs, ramps will be there for them to move conveniently. Also wheelchairs will be made available at the polling booths.
Even if there is one visually handicapped voter, the EC will provide the Braille facility, according to the Election Commissioner, S.Y Qureshi. He feels that the system should have a wide reach.
Going by July 2002 statistics presented by the National Sample Survey Organization (NSSO) survey, there are about 1.85 crore people who are disabled in the country. Visually handicapped account for about 28.26 lakh. There are around 106.34 lakh people who suffer from physical disabilities. Those having speech and hearing disabilities account for about 21.55 lakh and 30.62 lakh.
The NGOs and activities pressurized the Election Commission to provide requisite facilities in the form of infrastructure for the disabled. A PIL was filed in the Supreme Court by the Disability Rights Group which is situated in Delhi. They received a favorable response in 2004. The Human Rights Law Network had meetings with the Election Commission to ensure that ramps as well as Braille patches are installed on the EVMS.
The purpose behind such efforts is to ensure that more disabled people vote. They must feel that voting is possible without any barriers. Much awareness campaigns are being organized to inform the handicapped people that there are now facilities available to them to cast their vote.