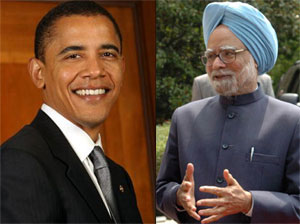 US President Obama had all praise for Indian Prime Minister, Dr. Manmohan Singh. Both of them get along very well. The chemistry between the two is pretty good. This was revealed in a press conference given after the summit.
President Obama described Dr. Singh as being "a wise and decent man". Dr. Singh, on the other hand, said that President Obama was a "ray of hope" and that the youth considered him to be "an icon".
President Obama, admiring Dr. Singh, further said that he, Dr, Singh "has been doing a wonderful job in guiding India even prior to being the prime minister along the path of extraordinary economic growth. That is marvel, I think, for the entire world". President Obama was referring to Dr. Singh's role in the economic liberalization process in India.
Dr. Singh, of course, informed President Obama that he that is President Obama was well loved and respected in India. Dr. Singh said that challenges such as climate change could be met under President Obama's leadership. He further added that India as well as the US had common dreams and a common vision. He also said that both the countries were interested in working together to realize the dreams common to them.
President Obama looked at India as a global partner and felt that together both the countries would be able to play a vital role in meeting up to challenges faced in the 21st century such as climate change, innovation and science.