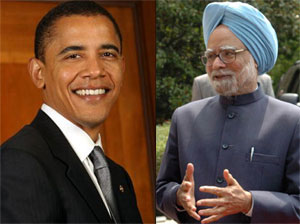 Issues ranging from trade in small items such as almonds as well as mangoes to bigger issues such as deals with regard to nuclear energy as well as space cooperation will be what Prime Minister Manmohan Singh will be discussing on his three day visit to the United States. The focus of course will be on US-India ties what it has been in the past two decades and what it shall be now.
India and US will be signing a pact on sharing of intelligence as well as counter-terrorist during the visit. Details are of course not being divulged, but importance is being given to the pact as the CIA Director Leon Panetta had come over to New Delhi to discuss details with his counterpart in India before its finalization. The agreement can include the exchanging as well as stationing of more intelligence personnel in the two countries, which includes mobile units that would facilitate better interaction.
The US has shown the initiative for the up-gradation of intelligence after Washington had finally been able to realize why it should not distinguish the terrorist group of Pakistan Lashkar-e-Taiba from the Al-Qaida also of Pakistan.
The Prime Minsiter will be in the US capital on November 26th , the day the Mumbai carnage took place, and this the US is well aware of..