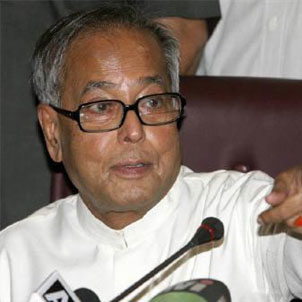 Union Finance Minister, Pranab Mukherjee is open to discussion with the allies of Congress on a roll back of hike in duties on fuels. Allies such as Trinamool Congress as well as DMK have very strongly protested against the rise in fuel prices on account of the restoration of customs as well as excise duties on crude oil, petrol as well as diesel in the Budget.
Speaking to the Times of India exclusively, the finance minister said that in a multi-party government, it is possible to have different views. He was therefore open to discussion. He said as of now there was no decision for a rollback as yet. He also said the impact of the fuel hikes on inflation was minimal. He no doubt clearly indicated a rollback could not be ruled out keeping in view the objections raised by the Trinamool as well as the DMK. When asked whether he would consider a rollback in fuel prices he said, "When the decision takes place you will come to know. These decisions cannot be taken in front of the camera."
The decision to start a graded withdrawal of the stimulus package, he said he had been encouraged by the performance of the economy in the October –December quarter.
Comment: The hike in fuel prices is of much concern for most people, not only for those running vehicles and using public transport but also for the common man. The hike in fuel prices would result in overall increase in prices of commodities. The freight charges would go up and this would in turn would mean that commodities would cost more. As it people are reeling under a lot of economic pressure on account of increase in prices of essential commodities.  Further increase would be very burdensome for the common man as well as the salaried class, who will find it difficult to stretch their budget.