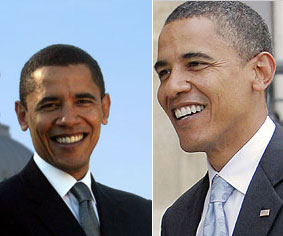 The US presidential seat is not a bed of roses. The innumerable problems that the US president has to deal with makes him grey faster. President Obama is no exception to this.
Only 44 days have passed by and President Obama, 47, is already graying. In fact, former US President Bill Clinton's half brown head turned grey in no time.
Obama's greying is the flecked variety and it is visible depending upon his haircut, which he gets done every two weeks. Many bloggers claim that Obama is getting his hair dyed either to look distinguished or look younger. But his barber, Zariff denies this vehemently and says that Obama's hair color is natural and there is no reason why he needs to get it colored.
Obama prefers to give a stress free look, yet the changes above his temples indicate psychological as well as physical strain of the job as well the winning of the coveted post.
With economy on down slide, raging wars, militancy and other innumerable problems adding pressure, Obama is likely to grey further. The wear and tear on the body system can be felt by the stresses and strain of the job.