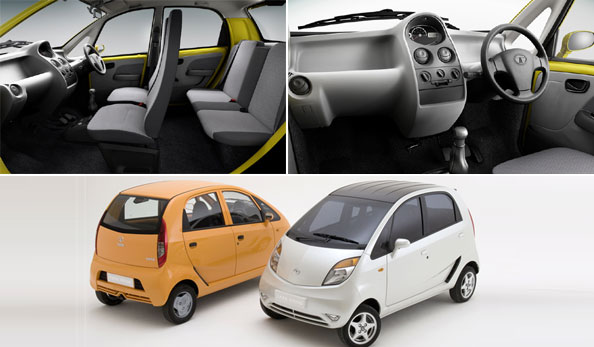 Tata Nano, the worldis cheapest car, is finally there for us to see. For those with tight budgets it is a dream car. More people will own cars now as they can afford to do so. But has Nano had an easy ride before it came into production? Certainly not. Ratan Tatais Nano definitely faced immense opposition from farmers and politicians and had to change its venue on account of such bad political climate. Let us have a cursory look at its struggles, what it went through? And what it had to face before finally being launched for the public to enjoy its comfort.
The Agonizing Moment for Launching of Nano:
Nano was to be launched in Singur, a small town in West Bengal. But sadly it did not. The farmers there filed a case against the Government of India, claiming a higher compensation or that the land be returned to them on which the factory was built. A similar situation was faced in Gujarat as well, where Ratan Tata had to again face local politiciansi gimmicks.
The sale of Nano was originally set for October 2008, but due to the Singrur protests, it had to be shifted to Pantnagar in Uttarakahand from where the first batch Nano cars are rolling out. Eventually, the production unit will be shifted to Sananad, Gujarat. Commenting about Nano in an interview given to Times of India, Rattan Tata said that " the car will roll out of the Sanand plant by end-2009 or 2010."
The claim made by local politicians at Singur, who accused Tata Ratan of forcing the farmers from their land or having paid only a fraction amount of the true value of the land. By October, the intensity of the protests had increased and roads and highways heading towards the factory were blocked by local politicians. Workers were also being threatened.
A Tata spokesman had then commented that the atmosphere was not congenial enough for production to take place. A hostile atmosphere would affect the production processes. Even Ratan Tata felt the same. He cannot function properly if his workers were being threatened all the time and there were strikes and protests all around.
The plan to shift to Gujarat also faced similar bottlenecks. The same protests by local politicians. It was indeed a frustrating experience for Ratan Tata, who had invested a lot of money in the project. The shifts from Singur to elsewhere and dismantling of the factory meant heavy expenditure and losses.
Now, Nano has been finally launched from Pantnagar in Uttarakhand from the existing factory of Ratan Tata. Tata, in fact, received extra land from the Government in Pantnagar to expand production in the factory there to roll out Nano.
Ratan Tata is a happy man now. To a query raised in the interview about what he had to say to Mamata Banerjee, he replied "Good Afternoon".