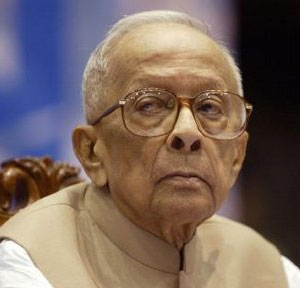 The send off to Joyti Basu was a grand affair in Kolkata. It represented the grand rule of the top Marxist leader, who was known for his integrity and remaining within the party rules parameters.
All the roads from the bus stations, garages and bus depots led to the Assembly hall from the early morning of Tuesday itself. The crowds just thronged where Jyoti Basu's body lay at rest. The VVIPs paid their homage and came in motorcades. The day of course reflected love of the masses for the great leader. Whole of Kolkata missed his presence and wept for him.
The people just stood to see the body go by dressed in dhotis and red bordered saris. They hung photographs of their great leader around the neck. Although it was cold and dull for the past two days, on this day when the nation was biding goodbye to Jyoti Basu, the sun came out.
The cortege began from the Assembly Hall and it was mounted on the gun carriage which was parked at the rare entrance of Raj Bhavan. The solemn march of the army as well as the emotions of the crowds blended and charged the atmosphere.
Jyoti Basu was given the last salute. A great man and a great farewell for him.
Comment: Jyoti Basu was a great Marxist leader, and played a major and active role in the politics of West Bengal. He upheld the values of CPI(M) and what the party stood for. He had the opportunity to become the Prime Minister of India of Center-Left combine, but declined it as per his party instructions. Till the last day CPI(M) sought his advice on various matters. They would indeed miss his presence.