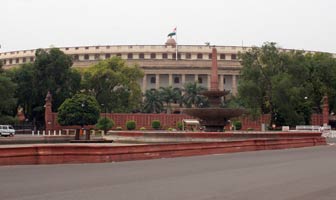 The Union cabinet has okayed the Women's Reservation Bill which has so far  not cleared for almost 14 years. The Bill will be through in the  parliament session as the BJP, Congress, as well as Left have pledged support to it. The three parties when combined consists of two-thirds majority in the Lok  Sabha for bringing about constitutional amendment and of course falls a bit short although manageable in the Rajya Sabha.
In the 15th Lok Sabha one could see about 33% of all seats in Parliament as well as state assemblies that would be reserved for women. The huge representation of women in the legislatures could definitely have an impact  on policies and can result in changes and also alter bring about changes in the nature of politics itself.
This move by the Congress has been feasible due to the absence of Lalu Prasad's RJD in the UPA  and also the lessening of the relevance  of Samajwadi Party chief Mulayam Singh Yadav. Of course, both the OBC chieftains have no doubt opposed the bill as they would like one-third of the proposed women's bill to be earmarked  for OBCs as well as minorities.
Another person opposing this Bill is JD(U) leader Sharad Yadav, but the combined support of the Bill by BJP, Congress as well as Left can definitely bring  the Bill into effect. The DMK support is possible which does say that priority must be given.
In order to ensure that the Bill becomes a reality then a Constitutional Amendment is necessary. The Bill to be passed requires 2/3rd of the members present as well as voting, but must not be less than what is the majority mark of the House.
Comment: It is indeed good that women will be more active in politics. The say of women does matter in Government matters  since much efforts are on to improve their conditions. Women have become more assertive these days and are force to reckon with in many spheres of activities, be it social, political or economic.