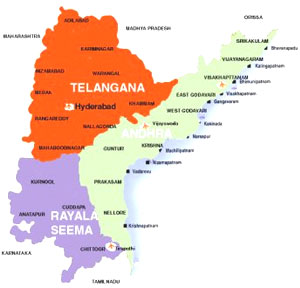 The Congress has given ample indication that the much talked about process for the formation of Telangana will take time. It made a request to partymen to withdraw from Joint Action Committee (JAC) which is agitating for separate statehood for Telangana.
Verappa Moily, Union Law minister in a statement also said disciplinary action would be taken against those who do not delink themselves from the JAC.
Moily also said that the Center had been concerned with the issue of looking into all the issues that happened to be concerned with all the respective regions of the state. "The terms of reference are under preparation and had not been finalized ", says Moily. He is also in-charge of state party affairs.
He requested that the partymen not to make beeline to the media on such sensitive issues which rather precipitate matters or disrupt the restoration of normalcy after discussions were held with various leaders of political parties and the union home minister, P. Chidambaram on January 5th.
The statement has been made after Chidambaram announced that a committee on the Telangana issue would be appointed next week, and its deadline having been extended to February7th for resumption of the agitation for separate statehood.
Comment: The Telangana issue has not completely died down. State political leaders are very much still expressing their views about it. Agitations are likely to be held again. Most people belonging to the Telangana region feel they are a neglected lot. Even Rayalseema region leaders are also expressing the same opinion. In fact, recently senior leader J.C. Diwaker Reddy hailing from Rayalseema region felt that his region should merge with Telangana or become a separate state. He did not favor Rayalseema merging with Andhra. In fact, all along he was favoring the a United Andhra.