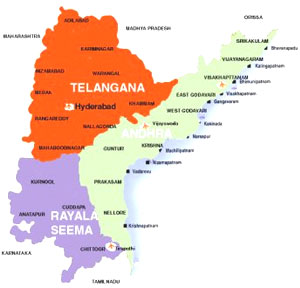 Another suggestion made giving a new dimension to the Telangana issue- to combine Telangana and Rayalseema. This idea has been mooted by some leaders of the Rayalseema region, but not so well received by Telangana supporters.
Ex-minister and influential politician of Rayalseema, J.C. Diwakar Reddy is behind this move for the merger of both the regions. "The people of Rayalseema would prefer to go with Telangana rather than Andhra if the state is divided. This I can say for sure. I am constantly getting the feedback from people in Rayalseema. Most MPs and MLAs from the region are agreeable to this" he said.
Till now Diwaker Reddy appeared to be more in favor of a United Andhra. Even Rayalseema region veteran leader and ex-home minister as well as TDP MP M.V. Mysoora Reddy also expressed similar views. "People I have spoken are in favor of merging Rayalseema with Telangana. The idea is still nascent. Let's see how it progresses. But we cannot turn away from this new reality."
One may recall that both these leaders along with late CM Y.S.Rajashekar Reddy had launched a movement for a separate Rayalseema state in 1980s They had undertaken a padayatra to highlight the region's backwardness and has also demanded for a larger share of Krishna waters.
Commenting on his shift in stand Diwaker Reddy said," Things are not the same. We do not know the Congress high command final stand on T. In a situation like this, the people of Rayalseema have been forced to think about the future."
Incase the merger does not work out, then Diwakar has suggested a separate Rayalseema." Rayalseema going with Andhra is not feasible." He is of the view that both Rayalseema as well as Telangana have common history. Both regions happen to be part of Nizam state. The Nizams had given up Kurnool, Anantpur, Kadapa as well as Chittor along with Bellary which is now in the Karnataka region to the British. He felt that people of both the regions were culturally connected. "For the past 60 years, they have been tied down by backwardness."