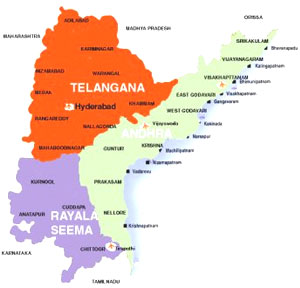 The state of Andhra Pradesh has been facing a major crisis of being split into Andhra and Telangana states, an issue which has not been appreciated by politicians hailing from Andhra region. Those from Telanagana, of course, having been vociferously demanding statehood after senior Telangana Rashtra Samiti (TRS) president K. Chandrashekar Rao went on a hunger strike in the state capital of Hyderabad. Several agitations by students and TRS supporters were held and even properties belonging to Andhra region were damaged as well as the local bus services.
The Central Government had to intervene and a meeting was held on January 5th consisting of all regional parties as well as national parties in Delhi. No consensus on the issue was reached and it was more of a deadlock. The political parties, numbering around eight stuck to their respective stands and did not yield a bit. Naturally, the Central Government could not decide upon whether to form Telangana or not.
The Union home minister, Mr. P. Chidambaram informed the media that the parties happen to be divided on the issue and that none of the parties were opposed to further consultations with stake holders and other groups.
Chidambaram said," should such consultations become necessary, they were keen that it should be concluded within a reasonable time-frame. I will take their views to Prime Minister Manmohan Singh and other cabinet colleagues and come up with decision or statement from the government," Chidambaram said he of course did not specify any time-frame for the announcing the decision. Later at night, Chidambaram met the Prime Minister and submitted a report concerning the meeting.
Chidambaram made it quite clear the issue was quite far from being resolved. Commenting on the law and order situation in the state, Chidambaram said, there must be a halt to agitations and bandhs. Law and order must be maintained. Children must go to schools and colleges. People must be able to be allowed to carry on their normal day-to-day activities. Government must be able to focus on development and the welfare of the people," he told the parties.
The home minister also said that the Maoist will take advantage of the situation," I wish to caution all political parties that there are forces waiting in the wings who ridicule the parliamentary form of democracy and who would be happy if we collectively fail to find answers to the issues that concern us, and we should not give any room for these forces to gain strength or credence."
It is hoped that further consultations on the issue will be held under peaceful conditions and all the respective parties would be able to decide upon future course of action.