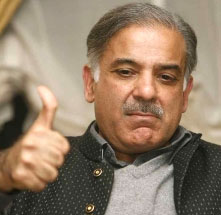 The Supreme Court in Pakistan restored the Government under Pakistan Muslim League (Nawaz) in the Punjab province, thus ending the governor's rule that had been imposed on February 25th.
The governor's rule in Punjab province was imposed by the Pakistan President Asif Ali Zardari after the country's apex court, the Supreme Court had declared that chief minister Shahbaz Sharif as well his elder brother Nawaz Sharif were "ineligible" to contest the elections or to hold any kind of public office.
The Supreme Court verdict had removed Mr. Shahbaz Sharif as the chief minister. The president had immediately after the decision of the court dissolved the provincial government. Governor Salman Taseer had taken over the executive powers on the President's behalf.
Recently, the Supreme Court consisting of 5 member bench granted a stay order on its previous decision.
A protest march led by Nawaz Sharif, which included lawyers had earlier been held to reinstate Shabaz Sahrif as Chief Minister of Punjab province. The march had a world impact, and the US Government had applied pressure on President Asif Ali Zardari to meet their demands, which he eventually did.
The disqualification case will be taken up in May by the apex court and till a final decision is taken, the Sharif brothers will be considered "eligible" to contest the elections or to hold public office.
The Sharif brothers were cheered by PML-N workers who had gathered outside the court.