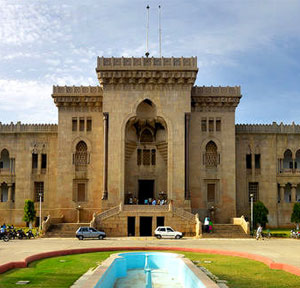 Violence has once again erupted on the Osmania University campus with more than 1,500 pro-Telangana students going on the rampage. The students threw stones at the police injuring some of them. About 30 students and 10 policemen were injured in these violent clashes. Much damage was done to the university buildings and several vehicles sere set ablaze. The students were demanding a public meeting of condolence for the their martyr K. Vengugopal Reddy, a MCA student who committed suicide for the formation of the Telangana state.
The violence lasted for nearly 2 hours and buildings that were damaged were Central Facilities Building as well as OU Academic Staff College. The TRS MLA E.Rajender as well as gunman suffered injuries which were minor in nature.
The students had set ablaze about three police vehicle- a van and 2 trucks. One of the damaged vehicle was carrying food for the policemen who were on duty in the campus. The police of course resorted to lathicharge. Many of the injured students were shifted to hospitals located nearby. The police made use of water cannons, fired several tear gas shells as well as rubber bullets in order to control the students who happen to be getting violent every minute.
The disturbance took place when about 600 students who were led by the OU Joint Action Committee (JAC) as well as JAC of various political parties tried to lead a rally at about 10.30 am meant to carry the dead body of Venugopla Reddy belonging to Arts College to Gunpark, which is the Telangana martyrs memorial located in front of the state Assembly. For about 45 minutes the students found it difficult to cross the cordon created by the police. The students became violent when they were prevented by the police to proceed further at the Ladies hostel of the university.