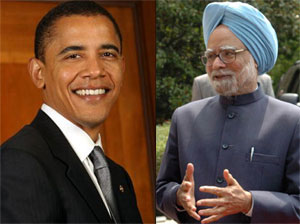 US president Barack Obama in a "Namaste meeting" announced very happily that he would pay a visit to India in 2010; in order to get rid of the impression held that he had been downgrading ties with India in relation to China.
Obama called India to be a "rising and responsible global power". Obama focused on exhaustive as well as expansive agenda to be set up between the two countries that dispelled any view held by New Delhi that it had been marginalized.
Prime Minister, Dr. Manmohan Singh is on three- day visit to India to improve ties with US on the eve of 26/11.
The meeting was held on a cold and bleak day dampened the usual ceremonial welcome given to the Indian Prime Minister. But the atmosphere was made cozy by the warm remarks made by the US president that US still had much love for the Indians.
President Obama said that India would be playing " a pivotal role" in the meeting up to future challenges. He said," the US welcomes and encourages India's leadership role in helping to shape the rise of stable, peaceful, and prosperous Asia. Obama also acknowledged quite implicitly, perhaps this being the first time as far as Washington D.C. is concerned, that the United States has made the mistake in its approach towards India's neighbor, Pakistan. "There were probably times when we were just focused on the (Pakistani) military – instead of (engaging its) civil society.", he admitted. This was in reply to query whether the policy of the US of providing arms to Pakistan had permitted the latter to become a adversary that was heavily armed.
The only hassle in the meeting between the two leaders was with regard to residual issues, nuclear in nature that included a fuel processing agreement.
Both the leaders paid much importance to their promise of having major engagements in the coming 21st century.