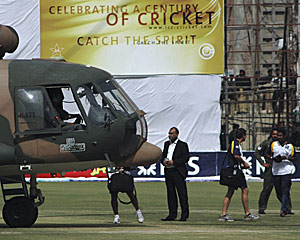 All in all 8 people, 6 policemen and 2 civilians were killed, while 6 players of the Sri Lankan cricket team were injured, when they were attacked by masked terrorists near Gadafi Stadium at Lahore at about 9 am on Tuesday, March 3rd.
The ambush was quite similar in its style of operation as that of 26/11Mumbai attacks. The world was stunned by the incident and Pakistan, of course, is already battling with militant elements, which are destabilizing the country. Pakistani forces have been trying to battle with militancy in the northwest regions, which is viewed as a safe place for Al Qaeda.
The attack indicates Pakistan government's inability to check the growth of such elements. Political leaders in India hold the view that terrorist infrastructure continues to remain the same despite Pakistani government's claim that it had taken action against terrorist camps. The leaders felt that the Pakistani Government had no clue as to how to effectively deal with militancy.
Pakistan Prime Minister Yousuf Raza Gilani felt the incident humiliated the country. The head of the Pakistani Interior Ministry, Mr. Rehman Malik said Pakistan was "in a state of war".
The six policemen were killed by the gunmen while trying to save the lives of the cricketers. Seven players and team staff were injured., which included Sri Lankan Mahela Jayawardena. Star batsman Thilan Samaraweera and Tharanga Paranvithana were in hospital suffering from shrapnel wounds but were out of danger. Umpire Ahsan Raza had been hit in the abdomen.
Those who suffered from minor injuries were Sipper Mahela Jayawardena, vice-captain Kumar Sangakkara, Ajantha Mendis, Thilina Thushara and Suranga Lokumal.
The Sri Lankan tour was cancelled and the Sri Lankan players were evacuated by helicopter from the stadium onto the airport to fly off to Dubai and then leave for their country.
This happens to be the worst attack on sportsmen after the massacre of 11 athletes belonging to Israel at the 1972 Munich Olympic Games.
Several people were picked up for questioning by the Pakistani authorities. There is no evidence of foreign hand so far.