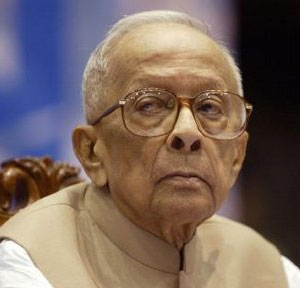 Ex- chief minister of West Bengal and veteran Marxist Jyoti Basu of CPI(M) is no more with us. He breathed his last at 11.47 am on Sunday, 17 days later to his being admitted in hospital for pneumonia. He was the longest serving chief minister in the country. His death has created a void that would be difficult to be filled. Not only was he known in Left politics but also at the national level.
The doctors made all their efforts to save him but his condition kept on deteriorating. The doctors could not do much about it. Even at the last moment the doctors had a pacemaker installed to stabilize his heartbeat. However, these efforts proved futile.
The whole of India was at Kolkata and the mourners poured in numbers similar to the occasion when Satyajit Ray and Mother Teresa died. Prime Minister Manmohan Singh, Amitabh Bachchan and several national leaders and politicians were present. They all wanted to pay tribute to the stalwart.
Incidentally, the body of Basu has been donated to science. His eyes will be donated to someone. The body will be kept at Peace Haven and the last journey will begin on Tuesday. Monday has been declared as a holiday in the state of West Bengal.
Prime Minster Manmohan Singh said that Basu was not only the longest serving chief minister but also "a great son of India". He also said that Basu was a powerful regional voice in the national political scene" In his condolence message Manmohan Singh said Basu " was a man of great integrity with a deep commitment to secular issues." The Union Home Minister, Mr. P Chidabaram described him as "colossus" in the Indian political arena. Union Finance Minister, Mr. Pranab Mukherjee recalling his friendship with Basu said he was " an outstanding parliamentarian." Mrinal Sen said" His death marks the end of an era of Indian politics."
Throughout his career which spanned about six and half decades he never went against the party line. In 1996 he almost became the Prime Minister of India in order to head a coalition government of center-left. He of course refused the offer as per the directive of his party. His advice was much sought by the CPI(M) on many issues. In fact, his death is a great loss to them as they have had much setback recently.