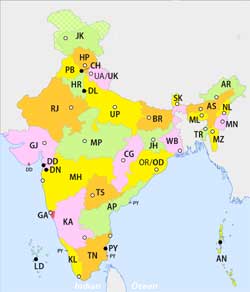 All the Details about Indian States at one location. I would update the list as and when the data changes. In this list you could find Chief Minister, Deputy Chief Ministers, Capital and Governors of all the Indian states.
In total there are 29 Indian states and 7 union territories. The list below is as per the population of the states in descending order.
Important Facts
Pawan Kumar Chamling is chief minister of Sikkim since last 19 years, 260 days.
Uttar Pradesh population is close to 20 crores where as Sikkim has only 6 lakh people.
Population density of Bihar is 1,102 whereas that of Arunachal Pradesh has only 17 people per sq. km.
Rajasthan is biggest state when it comes to area with a total of 342,269 sq. km whereas Goa has mere 3,702.
Odisha is the oldest state with official date of formation as 1 April 1936 shared with Bihar whereas Telangana is newest that is formed on 2 June 2014.
Kerela has the highest literacy rate of 93.91 whereas Bihar has lowest of 63.82.
| | | | | | |
| --- | --- | --- | --- | --- | --- |
| Sl. No. | Name | Capital | Governor | Chief Minister | Deputy CM |
| 1 | Andhra Pradesh | Hyderabad | Shri E.S Lakshmi Narasimhan | Shri. Nara Chandrababu Naidu | K. E. Krishnamurthy, Nimmakayala Chinarajappa |
| 2 | Arunachal Pradesh | Itanagar | Shri Padmanabha Balakrishna Acharya | Shri Pema Khandu | NA |
| 3 | Assam | Dispur | Shri Banwarilal Purohit | Shri Sarbananda Sonowal | NA |
| 4 | Bihar | Patna | Shri Ram Nath Kovind | Shri Nitish Kumar | NA |
| 5 | Chhattisgarh | Raipur | Shri Balramji Dass Tandon | Dr. Raman Singh | NA |
| 6 | Goa | Panaji | Smt. Mridula Sinha | Shri Manohar Parrikar | NA |
| 7 | Gujarat | Gandhinagar | Shri Om Prakash Kohli | Shri Vijaybhai R. Rupani | NA |
| 8 | Haryana | Chandigarh | Prof. Kaptan Singh Solanki | Shri Manohar Lal | NA |
| 9 | Himachal Pradesh | Shimla | Shri Acharya Dev Vrat | Shri Virbhadra Singh | NA |
| 10 | Jammu and Kashmir | Srinagar, Jammu | Shri N. N. Vohra | Mehbooba Mufti Sayeed | Shri Nirmal Singh |
| 11 | Jharkhand | Ranchi | Shrimati Droupadi Murmu | Shri Raghubar Das | NA |
| 12 | Karnataka | Bengaluru | Shri Vajubhai Vala | Shri Siddaramaiah | NA |
| 13 | Kerala | Thiruvananthapuram | Shri Justice (Retd.) Palaniswamy Sathasivam | Shri Pinarayi Vijayan | NA |
| 14 | Madhya Pradesh | Bhopal | Shri Om Prakash Kohli (Add. Charge) | Shri Shivraj Singh Chouhan | NA |
| 15 | Maharashtra | Mumbai | Shri Chennamaneni Vidyasagar Rao | Shri Devendra Fadnavis | NA |
| 16 | Manipur | Imphal | Dr. Najma A. Heptulla | Shri N. Biren Singh | NA |
| 17 | Meghalaya | Shillong | Shri Banwarilal Purohit | Dr. Mukul Sangma | NA |
| 18 | Mizoram | Aizawl | Lt. General (Retd.) Nirbhay Sharma | Shri Lal Thanhawla | NA |
| 19 | Nagaland | Kohima | Shri Padmanabha Balakrishna Acharya | Dr. Shurhozelie Liezietsu | NA |
| 20 | Odisha | Bhubaneswar | Dr. S. C. Jamir | Shri Naveen Patnaik | NA |
| 21 | Punjab | Chandigarh | Shri V.P. Singh Badnore | Shri Capt. Amarinder Singh | NA |
| 22 | Rajasthan | Jaipur | Shri Kalyan Singh | Smt. Vasundhara Raje | NA |
| 23 | Sikkim | Gangtok | Shri Shriniwas Dadasaheb Patil | Shri Pawan Kumar Chamling | NA |
| 24 | Tamil Nadu | Chennai | Shri. Ch. Vidyasagar Rao (Add. Charge) | Shri Thiru Edappadi K. Palaniswami | NA |
| 25 | Telangana | Hyderabad | Shri E.S Lakshmi Narasimhan (Add. Charge) | Shri K Chandrasekhar Rao | Md Mahmood Ali & T Rajaiah |
| 26 | Tripura | Agartala | Shri Tathagata Roy | Shri Manik Sarkar | NA |
| 27 | Uttarakhand | Dehradun | Shri Ram Naik | Shri Trivendra Singh Rawat | NA |
| 28 | Uttar Pradesh | Lucknow | Dr. Krishan Kant Paul | Shri Yogi Aditya Nath | Keshav Prasad Maurya, Dinesh Sharma |
| 29 | West Bengal | Kolkata | Shri Keshari Nath Tripathi | Km. Mamata Banerjee | NA |