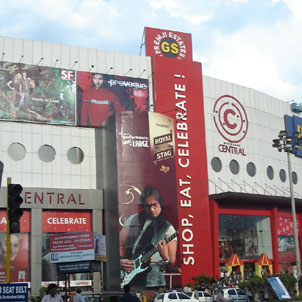 Hyderabad malls have been advised to put up nets to protect their glass facades since the Telangana trouble was still simmering and the police of course felt there would be more trouble. They have been advised to take measures to this effect. They have been given notices.
An establishment near IDBI in SR Nagar received a "notice" from the local police, instructing the owner to have safety net protecting his building and also take necessary safety precautions. Commercial establishments such as SR Nagar, Banjara Hills, Tarnaka as well as Punjagutta were targets of Telangana agitators who protested after the arrest of TRS leader K. Chandrashekar Rao on last November.
Several rioters had also damaged properties after the airing of the story that the Ambani brothers could be involved in YSR's death. Several buildings of Reliance have been damaged.
Public transport such as buses were damaged as well as some private vehicles. Glass facades of buildings such as Chermas in Ameerpet, Hyderabad Central in Punjagutta as well as digital showroom of Reliance, in Banjara Hills apart from many other commercial complexes. Stones were thrown at these buildings and buses and other vehicles were set on fire.
The police has informed these establishments to take necessary measures. Several establishments have set up safety nets such as City center in Banjara Hills, the office of Aircell in Begumpet, Gowri Plaza near Rasoolpura, Mody Hyundai showroom in Bowenpally, as well as Nishan showroom located on road number 12,Banjara Hills as well as several commercial complexes. The deputy commissioner of police, Central Zone, P. Hari Kumar said that more buildings will have a glass façades fixed up. Even multiplex Imax will also so follow suit.