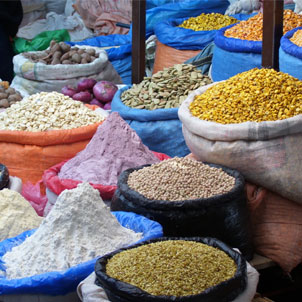 Food inflation has come down to 16.81 per cent during end of January 9th week. On the other hand the prices of host of essential items such as pulses, potatoes as well as cereals remained high. The Government had to increase the supply augmenting measure for the poor.
No doubt the rates of food prices came down for about a third week in a row, it definitely stood elevated when compared to the previous year's 11.59%. Food inflation stood at 17.28 % about a week ago. Prices of potatoes did go up by nearly 50% year after year while the pulses become much costlier by about 47.90 %.
Cereal prices have gone up by 14.18%, with wheat rising nearly 15% and rice about 12.65%. To shield the poor from this price rise, the government took a decision to give 10 kg rice as well as wheat more to these poor families for this month as well as February at the ration shop.
Milk prices had increased by 13.95 % over the last year and are expected to increase more on further availability. The Prime Minister will discuss the issue of increasing food prices with the states on January 27th. Economists also said the food prices which were on the increase would force the RBI to tighten up the supply of money. Suresh Tendulkar, ex-chairman of the Prime Minister's Economic Advisory Council (PMEAC) said. "It may not move the policy rates, but may raise CRR to signal that stern measures could be taken if the prices do not come down".
Comment: Inflation has been on the increase off late and people have had to face steep rise in prices of essential commodities. In fact, now the price of milk is also expected to go up. The Government has to address this matter as for those with static income it is very difficult to survive. Schemes are for the poor but even the middle income group face a lot of hardships. They have children's education to pay up and are surviving on fixed income. They are neither rich nor poor. The Government should also bring about measures for this group. Even for single women some medical schemes would help as they have to fend for themselves with growing inflation.
The Arogyashri scheme is for the poor. But such medical schemes for the single women would also help. Some single working women do not have medical facilities such as CGHS or other medical facilities. Such schemes would benefit them.