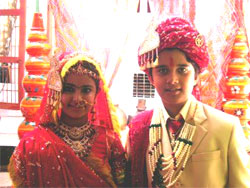 Child marriage was banned in 1929 in India, but it still continues to prevail. It is a social evil which continues to exist despite much awareness created by the Government.
Almost 50% of Indian women are married off before they attain 18. This was revealed in joint efforts by an Indo-American study, which was highlighted in the medical Lancet journal recently.
On observation of the data of 22,807 women between the ages of 20-24 years, it was evident that about 44.5% of them appeared to have got married before they completed 18 years.
The opinion held by the researchers of behavioral and social sciences at Boston University School of Public Health(BUSPH), the educational and economic reforms in India have not reduced the number of child marriages, which cause risks of several unwanted pregnancies and their termination as well as sterilization.
Child marriages have also led to poor fertility and repeated childbirths before the completion of 24 months.
Dr. Anita Raj, associate professor at BUSPH and lead author of the study observed that 22.6% ( more than one among five) married before they completed 16 years. Those women who got married before the age of 16 were more likely not to use contraceptives before the initial childbirth. About 48.4% of the women who married when they were still children gave birth to a child before they attained 18 years.
Dr.Raj is of the view that neither women and economic development programs have helped to prevent such child marriages, and not much effort has been done to promote child and maternal health as well.
The sterilization figures for women who were married as children were higher that those who got married when they were adults.