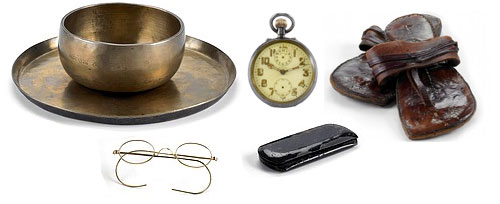 The Indian Government has informed the US Government that the Gandhian articles that were recently auctioned actually belonged to the Navjivan Trust and therefore their auction was illegal.
Replying to a query by the US department of Justice, a senior Indian ministry official for cultural affairs said, "There has been no change in our stand and we have reiterated that these Gandhian articles belong to the Navjivan Trust and the auction was illegal."
Top industrialist Vijay Mallya had won the bid for about $1.8million. He could not, of course, acquire the items as there were certain legalities involved.
The items which were on sale were metal-rimmed glasses, a pocket watch, a brass plate, pair of sandals and a bowl used by Mahatma Gandhi.
The official said that "we have responded to the queries, through the external affairs ministry and we have maintained that all these items are owned by the Navjivan Trust, founded by Gandhi himself." He further said that no one had the right to use them for commercial purposes, which includes auctioning and selling them.
The Indian Government is also planning to seek advance injunctions against such sales of Gandhian items, according to the official.
Ela Gandhi who was offended by the sale of the items felt that there should be laws to prevent auctions of this nature.