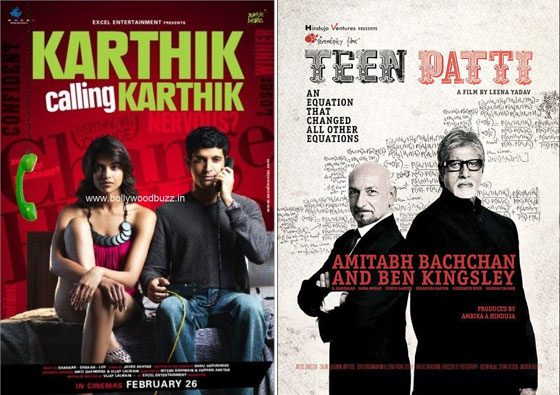 It seems that Farhan Akhtar's Karthik Calling Karthik, will give a strong competition to Amitabh's Teen Patti. Both these movies, which have been much awaited, are ready to release together on 26th Feb. Now only time will tell how the audiences welcome them and how well they do on the box office.
Both the films have some of the most bankable stars and the backers of both the movies have already started predicting a big clash for audiences. In fact, since 3 Idiots and Avatar, there have hardly been any great turnouts on the Box Office but theater owners are gearing up, believing that the two movies are going to make record setting grosses for the theaters.
Amidst the upcoming budget, the two big movies seem to be a welcome break. The timing of course, is impeccable. The music of both the movies has already had half of the country dancing to its tunes. Now all we really have to see is whether the script has enough juice and the direction enough prudence to keep the audiences glued to their seats. If they don't, this wont be the first time that a multi star studded cast has fallen short of the big promises they made before a release.