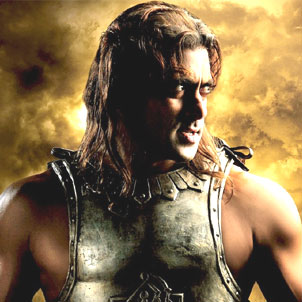 There are some things that can be done and some that simply can't. Take for instance Salman Khan. No matter what people say about him, controversy just cannot leave him alone for one bit. His recent release Veer, which is said to be the most expensive movie made in Bollywood, has just seen the light of day and its already run into a controversy. After getting lukewarm response at the Box Office, who knew that someone would step in to take the credit of the script.
Well, think no further. Salman already has a Gurgaon based writer Pavan Choudary, claiming that the entire movie's script was generously borrowed from a thought from the Hindi translation of his well known book 'Trilogy of Wisdom'.
Pavan feels that his concept of the trilogy – which resides in the amalgamation of Chanakya's political wisdom, Kabir's Spiritual wisdom and Confucius' social wisdom, has been blatantly copied into Veer. In fact, he says he was shocked when he heard Salman's character speak out a quote from his book verbatim.
While Pavan Choudary has already sued producer Vijay Galani and director Anil Sharma, he claims that he doesn't care about the money and all he really wants is to get the credit for his idea.
Now that's a line we all have heard too many times!