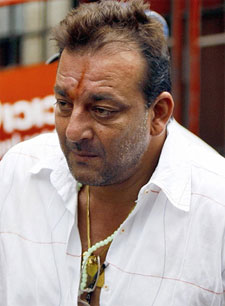 The Apex Court, Supreme Court of India has turned the request of actor Sanjay Dutt's to stay his conviction by Tada court in Mumbai under the Arms Act. It was a quite a disappointment for Sanjay Dutt who was keen to contest the general elections for the Lok Sabha seat from Lucknow.
The bench headed by the Chief Justice K.G. Balakrishnan said that at the time of passing the order that they were " not inclined to suspend his conviction. "The bench further said that " It is not a fit case to grant stay of conviction. Of course, the bench admitted that actor was not a "habitual criminal"and that his father, Sunil Dutt was an actor of great repute.
Sanjay Dutt cited the case of former cricket player Navjot Singh Sidhu, who is BJP Lok Sabha MP from the Amritsar constituency. The apex court had stayed the conviction of allowing him to contest the by-election from Amritsar. The bench, of course, was of the view that the offence committed by Sanjay Dutt was of a more serious nature as compared to that of Sidhu, who had had been convicted in case of road rage.
Sanjay Dutt was very unhappy about the decision. He said he was not leaving Lucknow and that this was his hometown. " I am not leaving Lucknow. This is my hometown and any candidate who stands from here will be my candidate. This is my seat and will always be mine,"he said to the Times of India.
Sanjay Dutt, of course, said he had complete faith in the judiciary and that he would honor the verdict given by the SC.
The Samajwadi Partyhas always was saying that in case Sanjay Dutt is not permitted to stand for elections, they would field his wife Manyata Dutt from Lucknow. Sanjay Dutt has said that her candidature will be decided by Mulayam Singh as well as Amar Singh and that it would not be his decision.