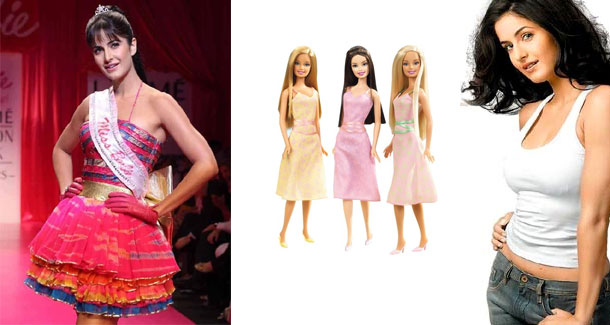 Actor Katrina has agreed to be Bollywood face of Barbie Doll, after actor Aishwarya Rai declined it. World over children love to play with Barbie doll, which represents fashions of many kinds.
The decision to have Katrina represent Barbie has come up on the eve of the 50th anniversary of the famous doll. Mattel, the company manufacturing the Barbie doll, has been requesting Aishwarya since the time she won the Miss World title. But, apparently, Aishwarya has not been agreeing to it. Now again she has been approached, but she declined the offer saying she was busy with her professional commitments.
Katrina, of course, is very delighted with the honor. Every girl, according to her, loves to play with a Barbie as a child and so did she.
The Barbie, incidentally, is a famous doll in the United States and is very popular with the girls. Young girls love playing with it.
Barbie was invented by Ruth Handler in 1959, who is the co-founder of Mattel. Her daughter was known as Barbara, who was playing with paper dolls enacting grown up scenes and dressing them up. Ruth felt that there was need for a "three-dimensional adult doll" for older girls to play with. The doll was introduced to the whole of United States at the American Toy fair in New York. The idea was to have a teenage fashion doll for girls to play with. The first bendable legs of Barbie were introduced in 1965.
Barbie is time less. Girls love to dress her up in latest fashions. The doll is still liked by the girls, who have not got bored with it.
Barbie, of course, is sold all over the world and now Mattel would like to have it in India with Katrina's beautiful face.