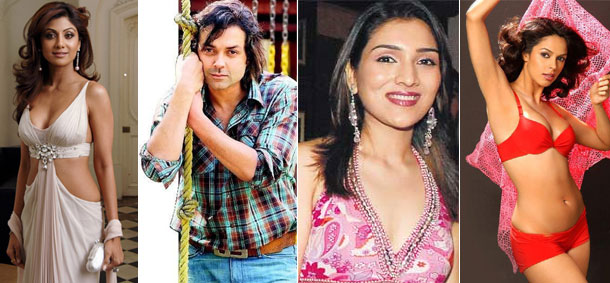 Raj Kundra, Shilpa Shetty's would- be- hubby dear is on Facebook and is trying very hard to promote Shilpa. No doubt, her former PR men also did not do a bad job of it. Yet, Raj felt he should do the needful for she is lady love after all. And he is much concerned about her personal as well as professional life.
The word spreading around the gossip mill is that Raj adds a lot of people to his Facebook and then suggests that they should join the "fan club page" of Shilpa Shetty. Now with such help Shilpa has a complete page which is just superb with the fantastic interactive website.
Shilpa is currently in London meeting up with Jade Goody, who is co-contestant of Celebrity Big Brother.
Bobby Deol was busy shooting for Sangeeth Sivan's venture EK-The Power of One produced by K Sera Sera. The actor took part in hi-fi action sequences such as erratic temperatures, blizzards, heavy rains etc. Bobby is, of course, a professional. Bobby was asked to rest in the van by Jaswant Kera, the executive producer as he was worried about his health. Bobby, however, did not do so as he felt that if other members of the unit could withstand the weather, so could he. He also felt traveling to and fro from the van would be wastage of time as much production time had been lost due to bad weather.
Actor Govinda's daughter, Narmada is all set to take on Bollywood. She had surprised everybody when she appeared with Salman Khan at the International Indian Film Academy(Iifa) Awards . She has, of course, undergone rigorous training in basics of dance and acting and has be well- groomed by professionals in the acting field. Govinda is all excited about it. He feels that she should have a good break in the form of good script and a good banner so that she does not regret it in anyway. He has given her the full freedom to do any film that she wants to do. Reports are floating that Govinda may turn into a producer and launch his daughter, although he says he has no plans to get into direction. He will continue to act and that's what he wants to do.
Mallika Sherwat was spotted at the hotspot of Hollywood "Mr. Chow", located in Beverly Hills in the US. It is a favorite Chinese eatery that Hollywood actors visit regularly. She was, of course, was not recognized. She subsequently walked up to a photographer who gladly took some of her photographs. More photographers joined in. She enquired whether she could make it to Hollywood. Her last Hollywood film was The Myth by Jackie Chan. She has, of course, set her eyes on Hollywood. She is presently working in Jennifer Lynch's flim Hiss and The Acquanrian Gospel by Drew Heriot in which Mallika is playing the role of a confidante of Jesus Christ. She is also acting in Bill Bannerman,Hollywood director's film Unveiled in which she acts as a Muslim woman.