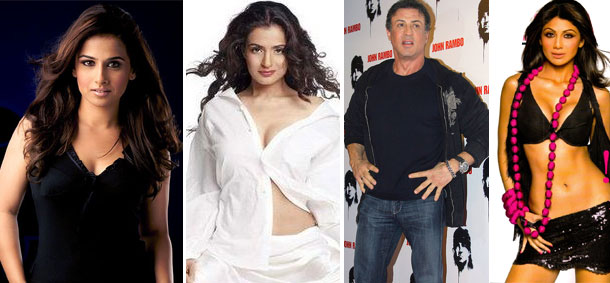 New Trends are started by Bollywood celebrities Kareena Kapoor happens to be a trend-setter in being the first and foremost size heroine. Bipasha Basu has begun her trend, going around sans-make-up. On many social occasions she has been seen without make-up. Ameesha Patel has also been seen around without make-up, preferring the "natural look" In fact, she received compliments sans- make-up, than with make-up on. She as a result decided to give up make-up completely. Bipasha Basu has also done the same. Naturally, these gals are born naturals.
Hollywood Star, Sylvester Stallone venturing into Bollywood, will be appearing in Sajid Nadiadwala's Kambakkth Ishq as a tough macho man, who rescues Kareena Kapoor in the fighting scenes. Stallone, even though he is 60, he is in great shape. Both Kareena and Akshay Kumar, who have lead roles in the film have praised his physical shape and professionalism on the Hollywood venture sets of Kambakkth Ishq. They also appreciated his friendliness.
Vidya Balan loves masala chai . She has it at frequently intervals. Incidentally, she is presently shooting for R. Balki's Pa in Kulu Lumpur, Malaysia and had missed her masala chai there. In fact, she went restaurant searching to see if masala chai was being served. Balki found her addiction to chai very amusing.
Karan Johar, the popular Bollywood filmmaker has off late shot a video requesting the young in India to vote during the coming general elections. He gave the credit for such a suggestion to Imran Khan for coming up with the idea. Karan Johar has been shooting continuously for the film Namesake with Shah Rukh Khan as well as Kajol. He was assisted in his video production by Mukul Deora, the politician friend, Niranjan Iyengar, who is a writer friend and Tarun Mansukhani, director friend.
Actor Shilpa Shetty is holding talks to become part of the cast for the popular UK Television show East Enders. Thirty-three year old Shilpa will be part of an Indian family in the soap opera, according to reports of the Daily Mail. This would be the foremost major foreign project that she would be undertaking after Britain's reality show Celebrity Big Brother in the year 2007.