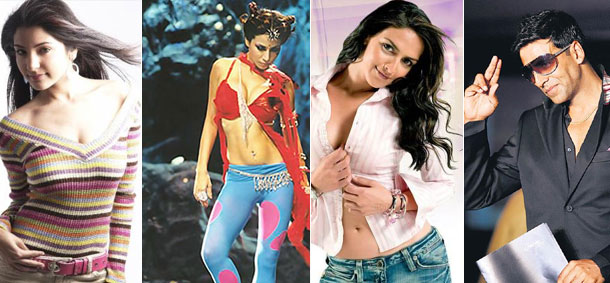 Esha Deol is quite a favorite of the Khan family that is Feroze Khan's clan. She is a pal of Fardeen Khan and was once linked to his cousin Zayed Khan.
Feroze Khan is very fond of Esha, who would drop in regularly at their home and would catch up with the latest with him in case the boys were not around. In fact, when Feroze was in the hospital recently Esha made regular rounds of it. She would play Scrabble with him, as he happens to be a fan of the game to take his mind of his health condition.
Rituparna Sengupta has signed up Amol Palekar's next film venture, which has been written by Amol's wife Sandhya Gokhale. The English language based film is all about relationships and is highly emotional and very intense. Rajat Kapur will also be starring in it, and this will be the second film of the pair. Earlier both had appeared in Anuranan.
Palekar's film again brings back Antara Mali, who has been away from the industry for quite some time. Antara plays the role of a "mysterious" woman.
The shooting will take place in Sikkim.
Akshay Kumar is very excited about his shooting for the film "Blue" considered to be "India's first underwater movie". The film was shot in the Bahamas and Akshay had to wear scuba gear and jump 100 feet deep into the water. Quite a feat, no doubt for him. He had to take off his oxygen tank and then his goggles. He was asked to swim among sharks, which was least expected. He was of course shocked doing a stunt like that. The producer had not mentioned it earlier and did so as he did not want Akshay to worry about it.
The film has been produced with a budget of Rs.100 crore. Of course, money did not matter to Akshay as it was a well-finished project.
Anushka Sharma is off Bollywood and has gone back to modeling in Bangalore. She is also likely to act in Kannada film. She had acted opposite Shah Rukh Khan in Yash Raj's production "Rab Ne Bana Di Jodi".She is likely to be more active in the Southern films.