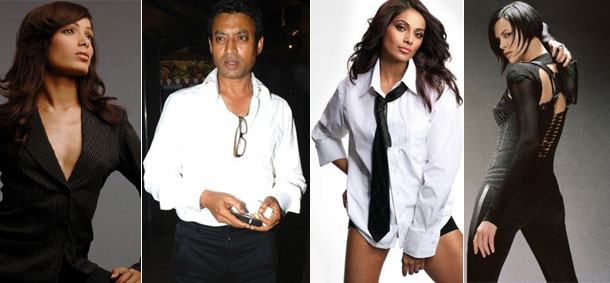 There is going to be more of Hollywood and Bollywood collaboration after the Oscar winner film, Slumdog Millionaire. Actor Irfan Khan of Slumdog Millionaire fame has been approached by the film's producers to do a lead role in another film. The head of the studio, Peter Rice has requested him to do such a role in another Hollywood venture.
Actor Freida Pinto is also beaming these days. None other than Hollywood director Woody Allen has signed her for one of his ventures.
Firaaq, the directorial debut of Bollywood actor Nandita Das is inspired by the Godhra incident and will be released just before the Lok Sabha elections giving jitters to the Chief Minister of Gujarat, Narender Modi. In an interview, Nandita Das says," the violence in Gujarat a few years ago has provided the context for the film, but is certainly not restricted to it. It's about instances of violence everywhere, the futility of it all and the heavy price it extracts."
Bipasha Basu has a bold look in Aa Dekhen Zara- black nails, a tattoo on the chest, colored hair – it is way out no doubt then her usual style. She is no doubt flabbergasted but her designers and stylists have convinced her to don the look.
Hollywood Charlize Theron is planning to act in a light-hearted comedy film as compared to her usual serious films. The Oscar winner for the film Monster is fed up with serious roles and prefers doing a light film. She would of course love to do a musical
Genelia is thrilled about acting with John Abraham, the man of her dreams in David Dhawan's film Hook Ya Crook. She is a great fan of his. Since college days she has had a crush on him, when he had attended their college fete. Genelia attained fame after her successful role in JaaneTu Ya Jaane Na. She shall also be acting opposite Fardeen Khan and Harman Baweja in films such as It's My Life and Life Partner.