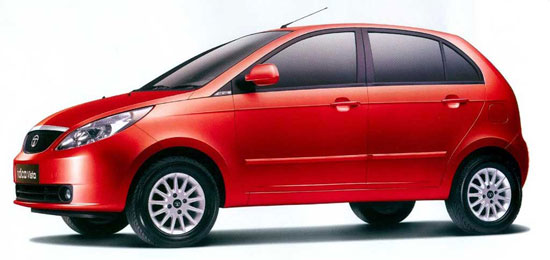 Tata Motor had launched their maiden car in December 1998, Indica. The car was re launched in Indica V2 in 2001, the car has undergone design updates and more engine choices both in diesel engine and Petrol engine like Turbo Diesel, Common Rail Diesel (DICOR) and Xeta petrol engine. The Indica Vista was first showcased in Auto Expo in January 2008. In August 2008, Tata launched all new Tata Vista , which is totally redesigned car from body design, interiors, instrument panel, consol, suspension and power train. It does not share any thing with Indica V2.
The car has been launched in three variant (Tera, Aqua, Aura) with three engine version; two Diesel engine( TDI, Qudrajet) and one petrol engine (Saffire). The Turbo charged 4 cylinder is 1405 cc 475 IDI Intercooled diesel engine producing maximum power of 71 bhp @ 4500 rpm and maximum torque of 135 Nm @ 2000 rpm. But the ace of the pack is 4 cylinder ,1248 cc SDE Common Rail Diesel Engine delivering maximum power of 75 bhp @ 4000 rpm and maximum torque of 190 Nm @ 1750 rpm.
This engine is being produce in collaboration with Fiat. The engine is also being used in Maruti Swift Diesel, Dzire and Fiat Sitale (which also being marketed by Tata Motors). This engine is definitely known for its performance and efficiency.
In the Petrol version the Tata have designed a new 1172 cc 4 cylinder multi point fuel injection engine producing a maximum power of 65 bhp @ 5500 rpm and maximum torque of 96 Nm @ 3000 rpm. All versions are 5 speed manual transmission with a new gear box from Fiat.
The base model is Tera, Aqua is middle and Aura is top end models. The TDI diesel engine is available in only Tera and Aqua and not in top end Aura. While Qudrajet is not available in Tera.
Aqua variant has additional features compared to base model Tera like front fog light, full wheel caps, both sides outside rear view mirrors ,full fabric seats, dual tone grey dashboard, RPM meter, front door power windows, rear window demister and central locking. The Aura model has additional features compared to Auqa like rear fog lamp, high mounted LED stop light, body color door handles and rub rail, dual tone beige dashboard, all door power windows, two DIN integrated CD system with USB port, adjustable driver seat and folding rear seat. The Indica Vista is price Ex Showroom in Delhi for Diesel TDI Rs 3.86- Rs 4.0 lacs, Safire Petrol Rs 3.50 lacs – Rs 3.98 lacs and Diesel Qudrajet Rs 4.60 – Rs 4.88 Lacs very close to Swift Diesel.
The car will compete with B and B+ segment. When Indica was launched it was only diesel car in B segment. Now the situation has changed with Maurti Swift Diesel, Skoda Fabia, Hyundai Getz CRDI having launched diesel cars with common rail direct injection technology. It has become a competitive segment. In petrol it will compete with cars like Maruti Swift, Wagon R, Zen Estilo, Hyundai Santro, Hyundai i10, Skoda fabia, Cheverlot Aveo UVA and Hyundai Getz.
The car is comfortable has good ride quality and spacious compared to the competition. The Tata would have done well to add ABS and airbags to top end model to get all the safety features now being offered by the competition.