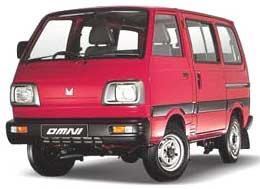 Maruti Omni, a micro-van, was launched as a passenger vehicle in 1984, one year Maruti launched Maruti 800 car. The van had same engine and power train as the Maruti 800. It was launched with low roof and high roof version. High roof version was latter withdrawn possibly due to stability problems. Over the year cosmetic changes in terms of seating arrangement were introduce. Maruti Omni was very popular as transport vehicle especially as Taxi all over the country due to its price, low ownership cost, fuel efficiency. Latter the cargo version also have been added with LPG fuel as alternative in 2003. The LPG version was extended to passenger version in 2004 after it was approved by Regional Transport Offices. This make LPG vans as one of the cheapest running cost vehicle. It is also available as ambulance and is extensively used all over India. The factory fitted LPG kit is from Vialle, Netherland with 62.1 liter LPG cylinder. The LPG delivers maximum power of 27 bhp @ 4500 rpm.
The heart of this van is 796 cc, 3 cylinder petrol engine which was earlier carburetor run was upgraded to multipoint fuel Injection Engine with 2 valves per cylinder and a 16 bit computer module meeting Bharat III emission standards. The engine delivers a power of 35 bhp@5000 rpm and maximum torque of 6.1 kgm @ 3000 rpm. It has 4 speed manual transmissions. Maruti Omni has front suspension Mc Pherson strut and rear suspension leaf spring with shock absorbers. The fuel efficiency is also due to low kerb weight between 785 kg to 800 kg I various models. It is very easy to drive and has turning diameter of 4.1 meter only. The variants now available are as under:
Omni 5 seater passenger
Omni E 8 seater passenger
Omni LPG 5 seater version
Omni Cargo
Omni Ambulance
Omni LPG Cargo.
The new look Omni launched with Bharat III emission norms, has a face lift to this old work horse in Maruti range. The grille, headlamps and front has been given face lift with interiors. The dashboard, instrument panel and centre console have been redesigned and new two tone upholstery. The dynamic steering wheel helps better driving. The Omni now has radial tyres, booster assisted front wheel brakes and I CATS anti theft system has been added.
As the Maruti Omni heads for sliver jubilee in India, this micro van has done well and still strong in its category though it will have competition from Diesel mini truck like ACE from Tata and Mahindra in cargo sector.