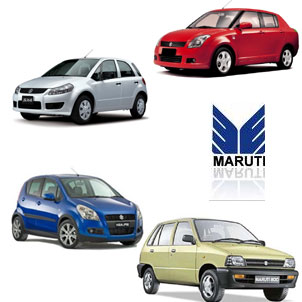 What would Indian Automobile scenario be without Maruti Suzuki India Ltd? Being India's biggest car makers, Maruti Suzuki India Ltd gave the common man the Maruti 800, one of the most popular cars in India, ever. Today the company stands as the biggest car maker and has given the country seven small cars.
In the wake of the increasing competition faced by this Indian manufacturer, Maruti Suzuki India Ltd. Has decided to increase its production capacity by a whopping 25%. This move comes soon after the auto Expo 2010 where many international car makers like Toyota, Fiat, Skoda and Volkswagen unveiled their small cars aimed at the Indian middle class. Maruti Suzukia India Ltd of course wants to retain its lead position in the local markets.
Maruti's biggest manufacturing unit in Manesar is now set to undergo a radical change. The board has already approved the increase in the capacity at this plant. By the year 2012, it is estimated that the capacity of the Manesar plant will have risen by about 250,000 cars. The current output of Maruti is about 1 million cars per year and it is estimated that after this expansion, Maruti will be manufacturing about 1.25 million cars per year.
In the recent past, Maruti's mid segment hatchback 'Ritz' has faced tough competition from Hyundai i10 and i20. with General Motors launching the Chevrolet Beat, and Ford too coming up with a small car, Maruti expects the competition to only get tougher. Foreign car makers are showing increasing interest in the India because of the huge market for automobiles. Selling cars in India also allows these foreign car makers to offset the dwindling sales in the foreign market where the spending power has decreased severely after the recent economic slowdown.
Maruti already has a stronghold in India, with seven small cars like the Wagon-R, Swift, Alto, A-Star, Zen Estillo, Ritz and of course, the Maruti 800. With these small cars, Maruti already controls more than half of the market in India. However, it has been forecasted that annual sales of cars will have tripled by 2012 and everybody wants a piece of the pie.
Meanwhile, even though Maruti controls most of the market, the organization has been known to be fighting a bottleneck in terms of capacity. The rise in production capacity is intended to meet the envisaged rise in demand for more good quality, low maintenance cars. Maruti has always optimally used its capacity, but it is time to increase it so that the car makers are equipped to handle all the competition that they face from outside.
All said and done, Maruti does have one advantage. With the excellent service records, the huge availability of service stations and cheap maintenance, Maruti has built a trust amongst the Indian consumers. It is extremely difficult for any foreign car makers to race ahead of Maruti.