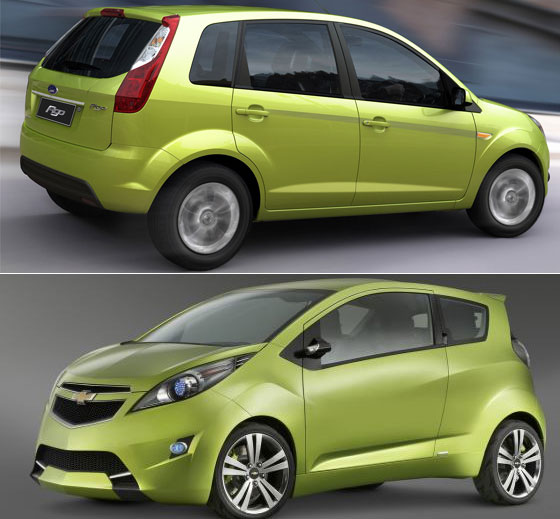 It is known well that India has grown into the largest small car market. In fact, almost all auto giants throughout the world have started to merge into new partnerships or going solo, planning to launch new cars in India. In fact, most of these car makers are more interested in entering into the small and compact, budget cars, trying to entice the flamboyant Indian middle class.
This has almost led to this era's biggest car wars where rival companies are launching new small cars one after another. The competition is getting very tough, so much so that the Japanese and other Asian motor companies which almost had a monopoly in India till a few years back, have started to feel threatened.
Small cars have become increasingly affordable for the middle class Indian consumer, who has now more money to spend, thanks to the improving economic conditions and increased salaries and other economic opportunities. In Indian, presently, auto heavyweights like GM, Ford and Volkswagen are trying hard to bring in new and improved innovative vehicles to the fore. In fact, they are bringing whatever cheapest offerings they have in their posse, to the Indian market. However, Asian car makers have already established a market in India and even with competitive prices, it might be difficult for the American and European car makers to give competition to Honda, Hyundai and Maruti Suzuki.
The Nano, with its unbelievable price of Rs. 1.5 L is tough competition already. Other cars in the segment include the newly launched Ford Figo and Chevy Beat, both priced at Rs. 3.4 L, and the Volkswagen Polo, which is priced at Rs. 4.5 L. Looking at these prices, it seems that after sales maintenance and other addons will be the key drivers to push the markets in their favor. If that is so, the new entrants in the market are still at loss. While Maruti is present in almost every big and small town and city of India, Hyundai and Honda also have presence in more than 200 cities. As compared to this, Volkswagen is still present only in 32 cities and people do not have much after sales experience for Volkswagen cars because before the launch of Polo, these cars were barely in reach of the middle class.
Only time will tell now whether the leading car makers continue to maintain their monopoly or whether the new car makers in the Indian market are able to make some space for themselves. Meanwhile, the consumer is getting spoilt for choices.