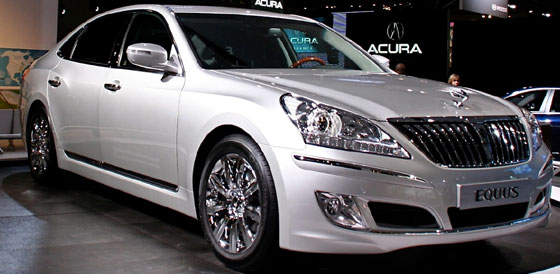 Everybody is doing their bit to make the world greener. Automakers are also trying to switch to greener fuels. Honda has already planned to launch many of its models with hybrid technology. Hyundai however, has gone a step further by making the first paperless car. Hyundai Motors America have announced a car with a built in iPad. This new car will not have a traditional owner's manual but an owner's manual which is fed into the car's built in iPad.
Hyundai is planning to launch a new luxury sedan, Equus, this fall and the car is scheduled to be the new paperless model. Hyundai's move comes in order to cash in on all the hype that is surrounding the sleek tablet computer that Apple has just recently launched. Equus marks the Korean automakers' first venture into the super luxury car segment. To give their brand the new super premium vehicle feel, the car makers are also including a feature which will allow the car owners to schedule their service appointments using the built in tablet computer.
Hyundai is completely changing its brand image and with this surprising turnaround, they are trying to position themselves as a technologically savvy and modern brand. Traditionally, these are steps that consumers expect of BMW and Mercedes, however, coming off Hyundai, this is a step which has completely taken the world by surprise.
Hyundai has always had an image of creators of budget cars like the i10, Getz, Accent and many others. With the launch of Equus, Hyundai is trying to break into the high end market. Hyundai feels that Equus iwll be comparable to other luxury cars like the Lexus LS and the Mercedes Benz S class series. Physically the three cars will be of similar dimensions. The three cars will also have similarly powered engines in the range of 380 horsepower.
In the late 80s, both Honda Motors and Toyota Motors had made similar moves by expanding their portfolio to include higher end luxury products. Though the Equus is power pack with several high end features, it is estimated to cost much less than its competitors. Auto experts still feel that even though Hyundai is coming up with fancy gadgets and is trying to compete against big wigs like Lexus and Mercedes, how effectively they will be able to give competition to these already established giants in the market. Once the car makers finally launch the new car, things will become a little clearer.